LifeSpring is home to the Recovery Campus, set in the heart of Jeffersonville.  The unique combination of both the Integrated Treatment Center and Turning Point Center provides a one-stop experience for the needs of our clients who have both a mental illness and substance abuse disorder.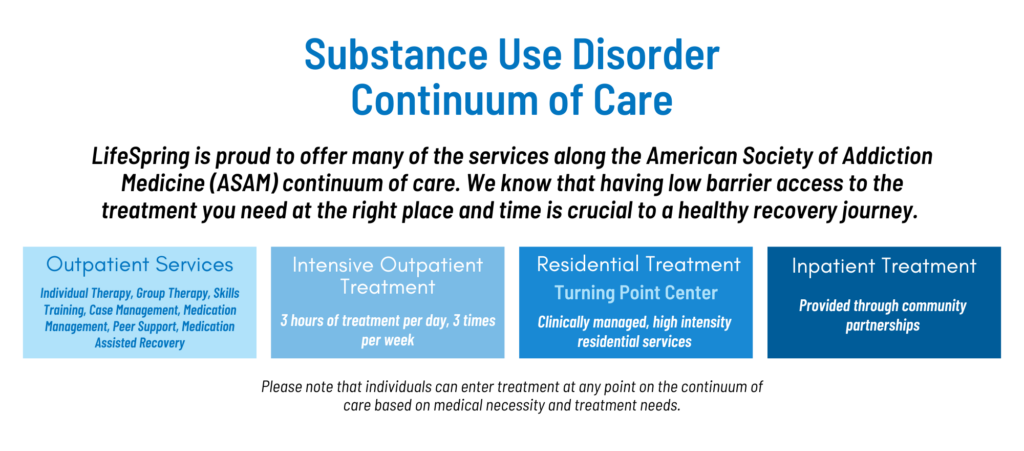 Turning Point Center
BEDS AVAILABLE!
Turning Point Center is a fully staffed residential facility, open 24 hours a day that provides services for men and women who are experiencing mental illness or alcohol/drug related problems.  Turning Point Center has added a physician-supervised sub-acute unit for clients with mental illness concerns requiring stabilization.
All that's needed to start the admissions process is to call or stop in – no paperwork necessary. Walk-in 24/7. 
Monday-Friday, 8AM – 5PM, call 812-283-7116. After hours and on the weekend, call 812-280-2080 and press 1.
*individuals are still required to meet admissions criteria
Integrated Treatment Center
LifeSpring's Integrated Treatment Center is a modern 10,000 square foot facility that provides a bright, attractive environment for clients seeking recovery from their behavioral health & addiction issues in an outpatient setting. The Center is open to men and women, ages 18 and over.  Additionally, the Center offers primary care services, regardless of ability to pay. To make an appointment with the Integrated Treatment Center call (812) 280-6606.
An additional resources for individuals seeking medically supervised detoxification at a low or subsidized rate is Regional Mental Health Center. You can find out more information about their program on their site Regional Mental Health Center Substance Abuse Services
LifeSpring Recovery Campus Brochure